The Overview tab is your first step when you open a candidate's card. It provides you with a synthetical view of important information regarding the candidate and its activity.
Summary
Overview tab presentation
This tab provides you with a single page overview of the information stored in each of its other tab (Information, Administrative, TD, Actions, Positionnings):
Single page overview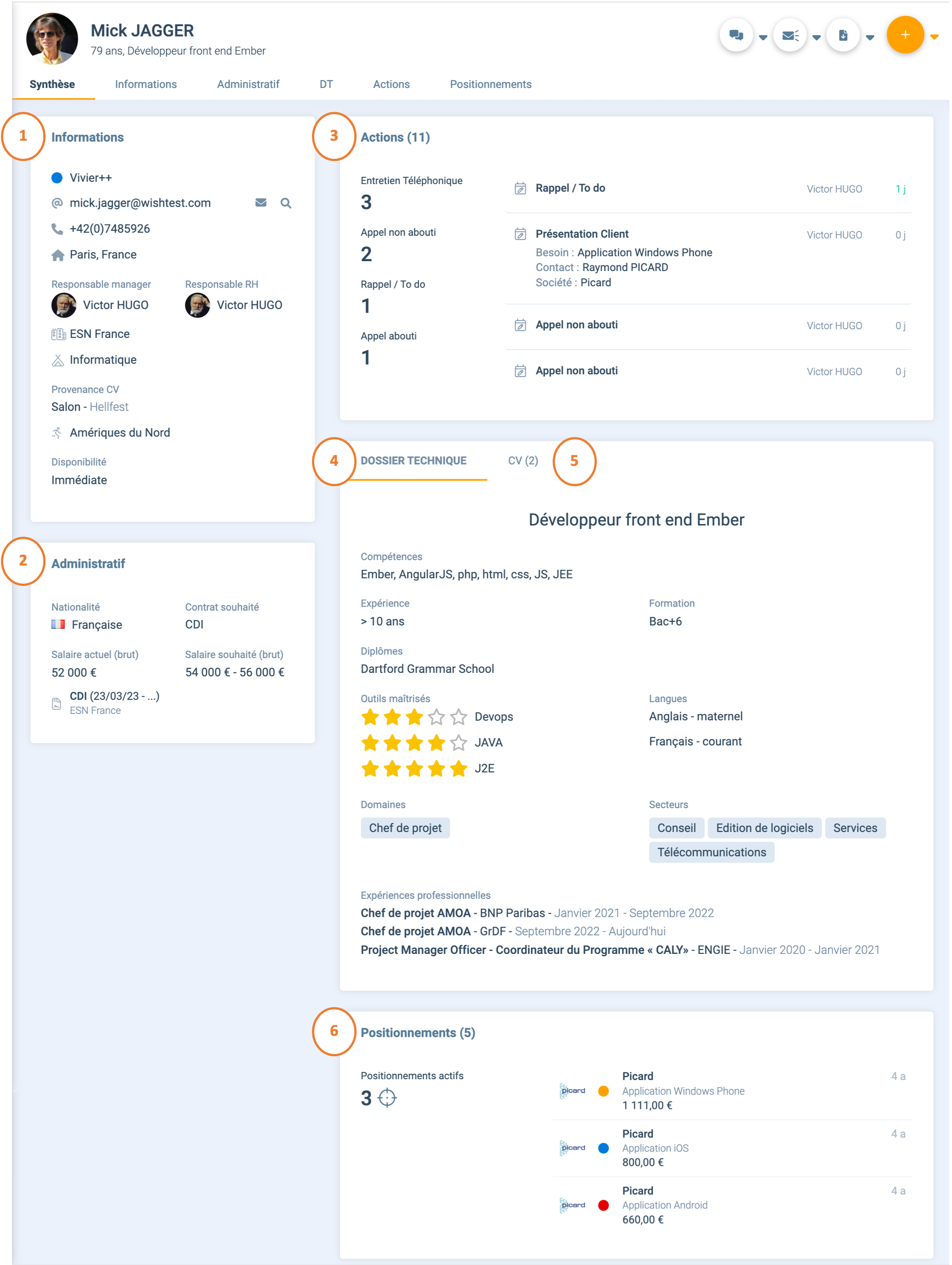 The essential information regarding the candidate (contact details, managers, ...)
The sum-up of its administrative details (current/desired salary, ..)
The activity around the candidates (actions)
The main details of its Technical Details
Its resumes attached
Its last positionnings
Direct link toward sections/tab are available to let you easily access/edit each information detail.
Good to know
The visible information of the overview tab depends on the user access rights regarding Candidates module.
How to use it?
The overview was designed to provide you with everything you need never more than a click away.
When hovering each section, a link appears to let you edit/add related information.
A single click will let you:
Update information (Use the "Edit" link displayed when hovering the section)
Create/Edit an action
Send an email to your candidate
Create a positionning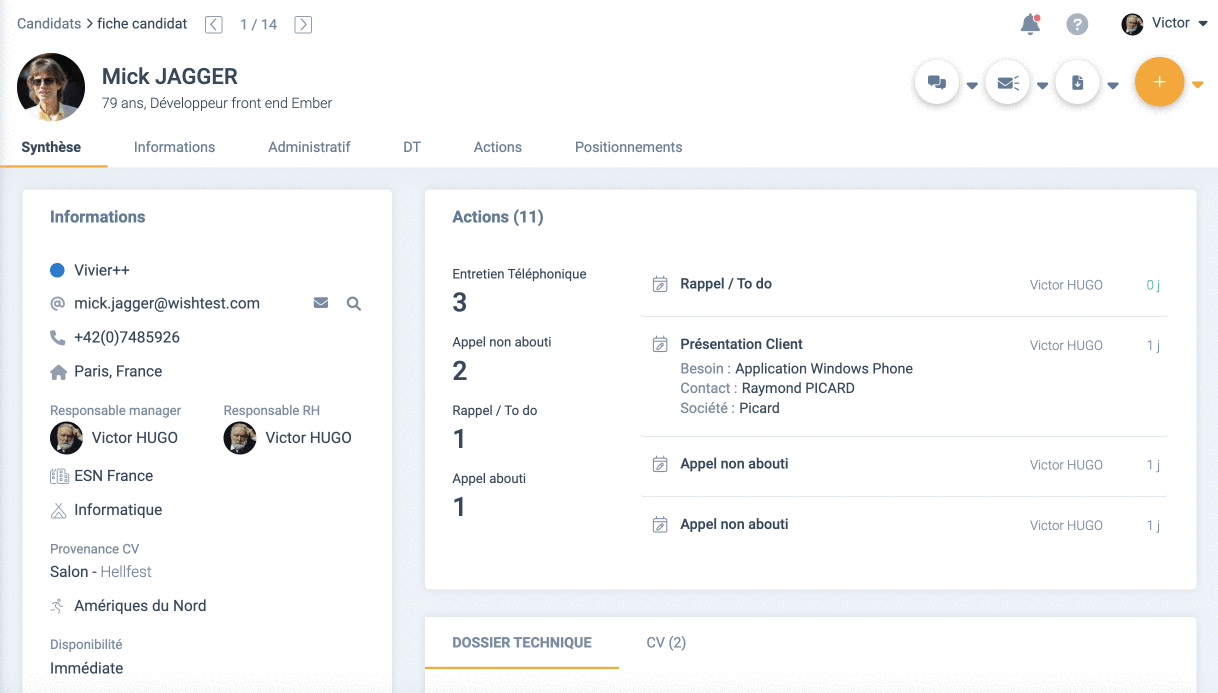 Regarding actions and positionnings, not only can you edit an existing record but you can also create a new one without leaving the overview tab.
Focus on Actions
This section is displaying: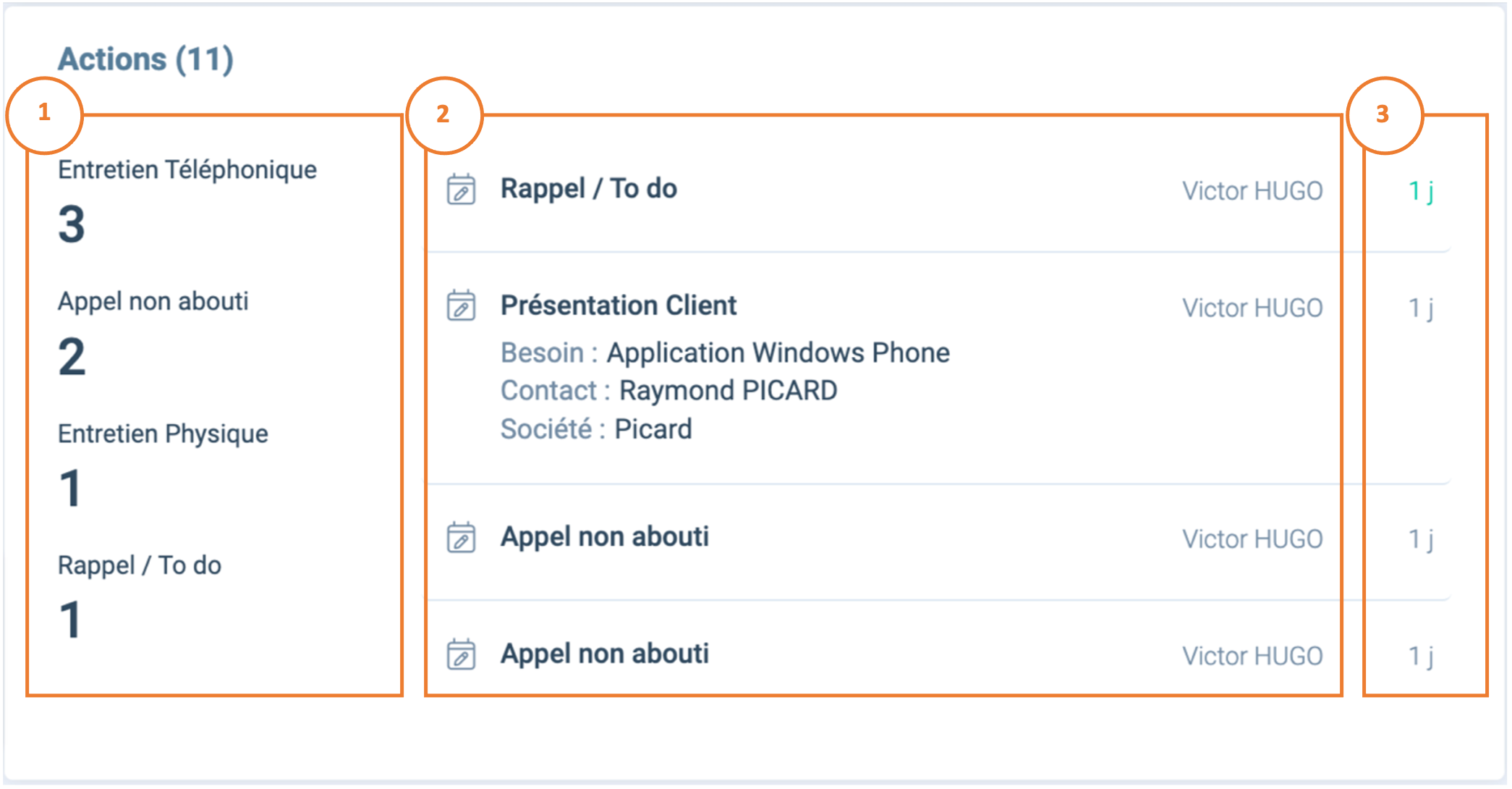 The 4 most created types of action
The 4 last actions created
An indicator showing the action "age" (green color means "upcoming")
You can directly create an action, without leaving the oveview tab. The modal window opens above your candidate card and you can minimize it if you need to have a look at some information during your interview. Once saved/closed, you still remain on the same overview tab and you'll be able to click on the relevant "Edit" link to change any information that need to updated.
F.A.Q.
Can we edit any information from the Overview tab?
You cannot edit information from this tab but you just have to hover the section you want to edit and then click on the link "Edit" displayed. It will redirect you to the right tab on edition mode.
Can we edit the Overview display?
It is not possible to change the overview display.
Is this Overview tab available on other modules (e.g. Resources)?
Not right now but our team is working on it 💪.
We hope that this tutorial has been of any help and we invite you to let us know by voting in the dedicated section below.
If you still have any questions, feel free to get in touch with our Support team :