1 – "My profile" > "Timesheets" tab
(1) Create the time sheet from the "Timesheets" menu

 My Profile > "Timesheets" Menu > Timesheet 

(2) click on the « Create » to add activities (projects you are in charge of, absences, in-house projects) and choose between the subtypes of activities defined by your administrators (for instance : Leaves or medical leaves)
(3) Once you have chosen the different types of activities, do not forget to click the « Save » button! 
(4) Click the « Validate » button to finalize your entry and send an email to the manager in charge of approving your time sheets. Once he have validated your time sheet you will not be able to edit it anymore.
N.B : Use the "Fill" button at the right of activity types to select all current month open days to save time !
"U.W" stands for Working Unit. This unit is the daily time subdivision. For example if the administrators has decided that 1 U.W = 1 day, that implies that 0,5 U.W stands for half of a day.
N.B : If your time sheet has to be signed by your customer, you can download a PDF that will only show your customer's datas by clicking the "Download" button. Once the document is printed and signed you can scan and attach it to your time sheet.
While editing the "Customer PDF", you can choose:
- to show on the PDF different types of projects, U.W (Regular, on-call… all defined by your administrator)
- to show or not to show "comments" field
- to show your full name (as default setting, your trigramme will appear. For example Paul SOMMER : PSO)
2 – My Profile > «Expenses »tab
(1) create the monthly bill of costs from the « My expenses » menu

My profile > "expenses" tab > expenses record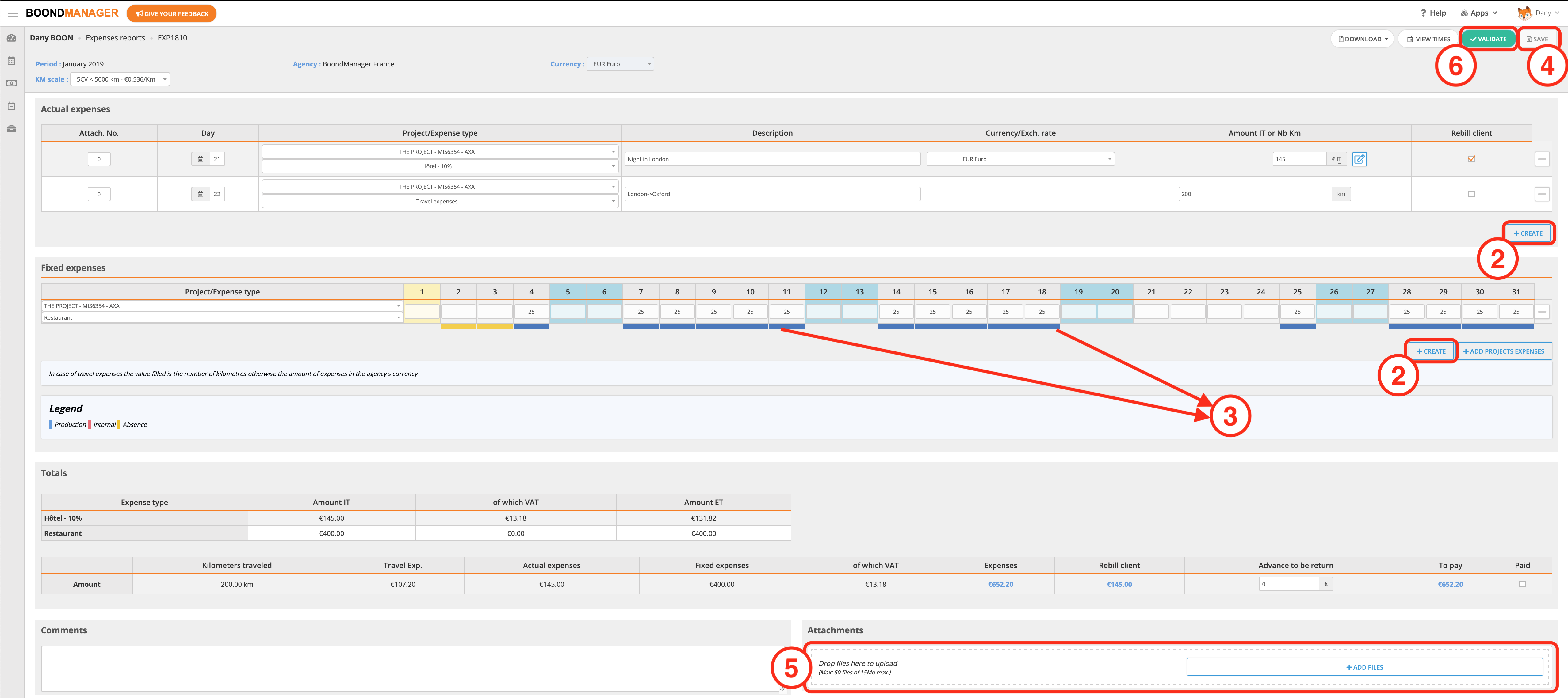 (2) click the « Create » button to add monthly fixed or actual costs. You can assign costs to different types of activities (Projects you work on , in-house/Internal activity, Absences)
 *Actual costs : you can use the check box on the left to bill back the customer
 * Fixed costs : if your employment contract references details about contractual expenses, they will automatically appear on your expense account (doc/file). WARNING, BoondManager/the software tool/the App/ will automatically prefill daily fixed costs, you will have to check them out, suppress or add any cost you can claim for. To make it simpler, if your monthly time sheet has already been filled out, under each fixed costs a color will display. It is (blue) for a customer project activity, (red) for an in-house/internal project, (yellow) for a an absence.=> (3)
(4) Once you have filled out your expense account do not forget to click the "Save" button to save you entries.
(5) notice that after saving your bill of costs, you can attach your proof of payment (with a specific number for each expense).

(6) To finalize your entry, click the « Validate » button to send a notification to your Manager. Once he have validated your bill of costs you will not be able to modify it.
NB : You can generate a PDF, only with costs you wish to rebill to your customer. Use the "Download" button and tick the box « Expenses to rebill to customer »