HireAbility is an app which will enable you to automatically create candidates in BoondManager using their CV in the Word or PDF format. The App will pre-fill some identified fields such as: first name, last name, phone number, email, skills...
Contents
Install the app
By default, this app is already installed for every user with a manager account.
However, if this was not the case, you'll then need to go to the Administrator interface > MarketPlace > HireAbility > Install.
Setting up the app
Administrator interface > Apps > HireAbility > Settings
In the section called Additional data to import during resume parsing, you can decide whether you want to import the following elements:
Degrees

Skills : the key words input here will be based on the CV content. The volume of data might upset you. Carry out some tests and deactivate this feature if you do not find it relevant.

References
Create a candidate using HireAbility

By clicking on the Create from a resume button, you'll have the possibility to attach a document and check/validate the data pre-filled by BoondManager: such as title, first name and last name.

Attention 1/2
Do not forget to double check the information which has been pre-filled by the HireAbility app. Indeed, depending on the document and its format, some elements can be difficult to analyse. Therefore, it's important to check and add what can be missing.
Attention 2/2
If this message shows up on the screen, it means you're trying to import a candidate who already exists, according to the tool. BoondManager will then suggest consulting the already existing profile in order to make sure you're not creating a duplicate.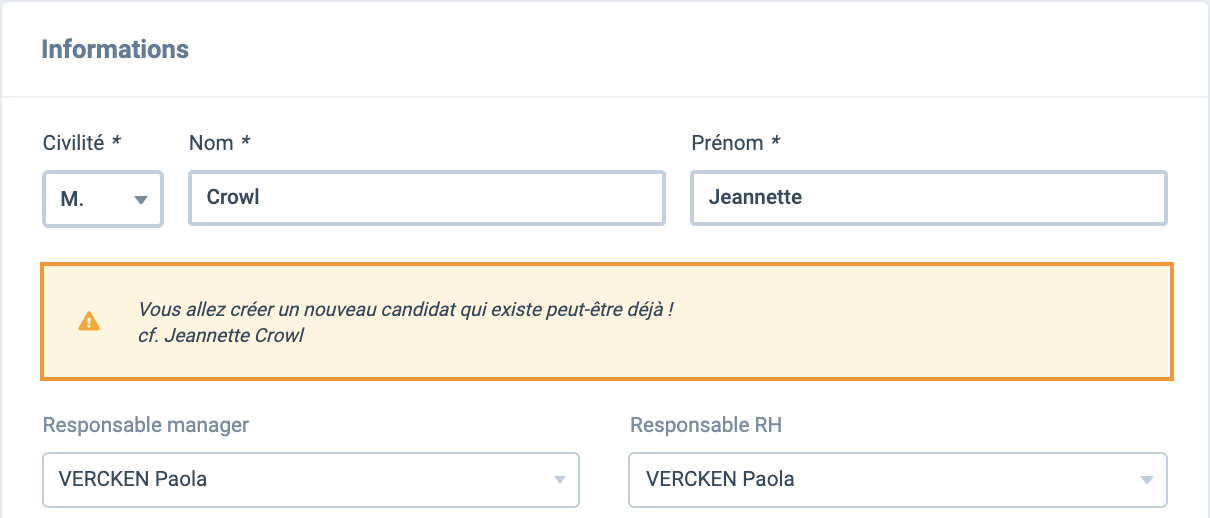 We hope that this tutorial has been of any help and we invite you to let us know by voting in the dedicated section below.
If you still have other questions, feel free to get in touch with our Support team :