This month, we are extremely proud of our teams and we are excited to present those very expected improvements which are going to change your everyday life!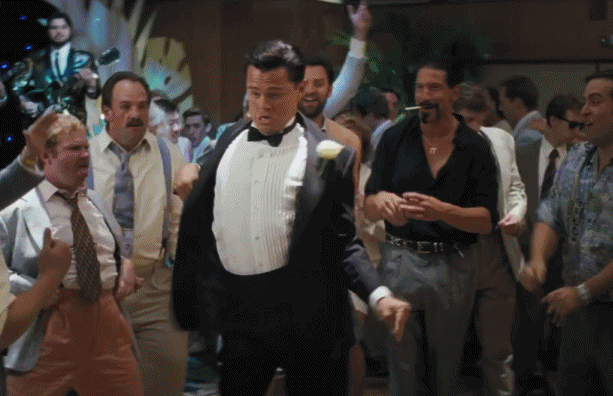 Emailing
We simplified the workflow
In order to simplify the users' browsing experience and to reduce the number of clicks, we have entirely redesigned the application workflow so that you can directly write your message.
Writing to one single person
From the relevant card (Candidate, Resource, CRM Contact) you can use the Emailing app to send a message or push a CV.
From a card, 2 options are available: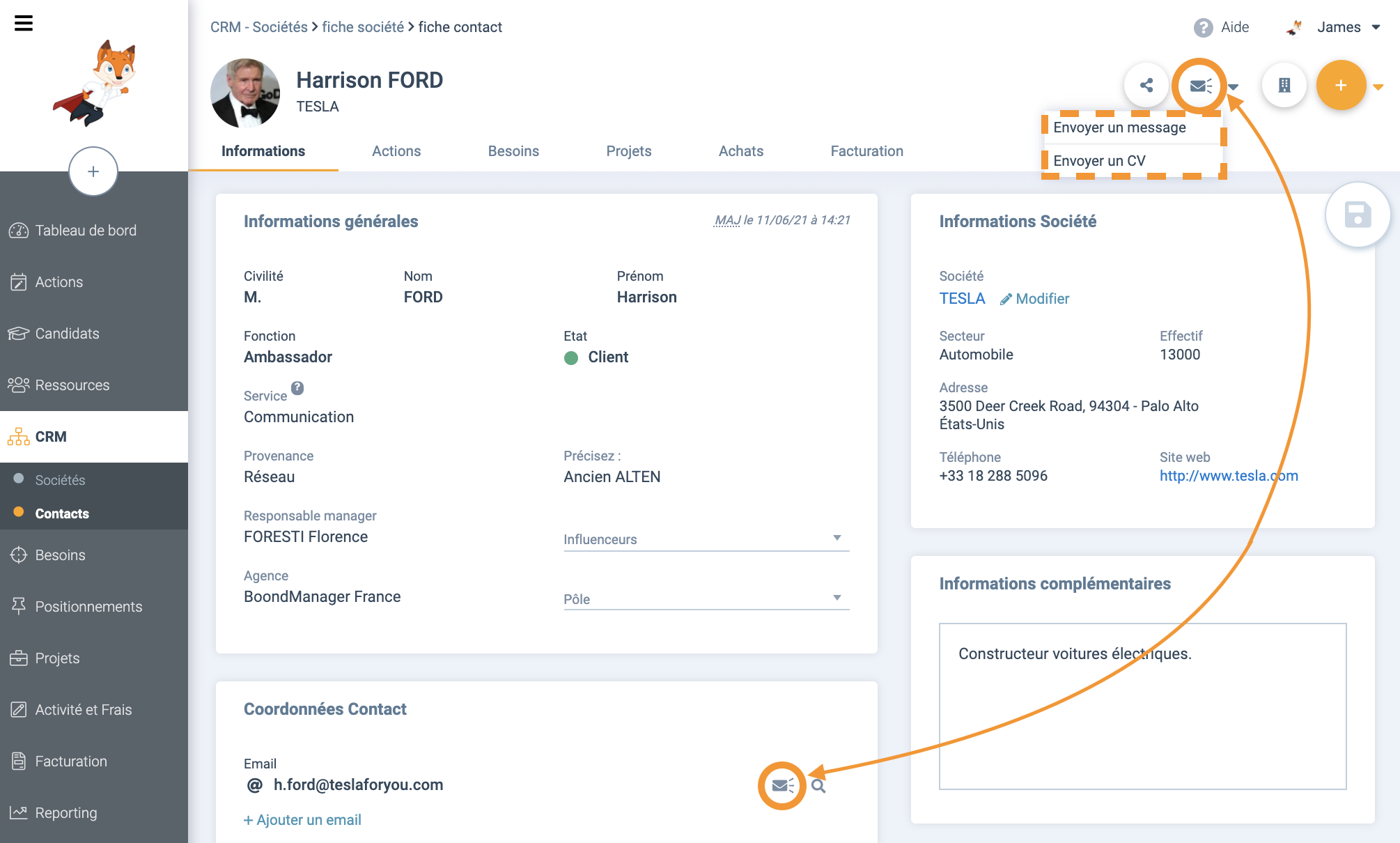 Writing to several people
As soon as you select different cards, a toolbar will be displayed at the bottom of your page. This will enable you to use the Emailing app and to choose between message or CV push.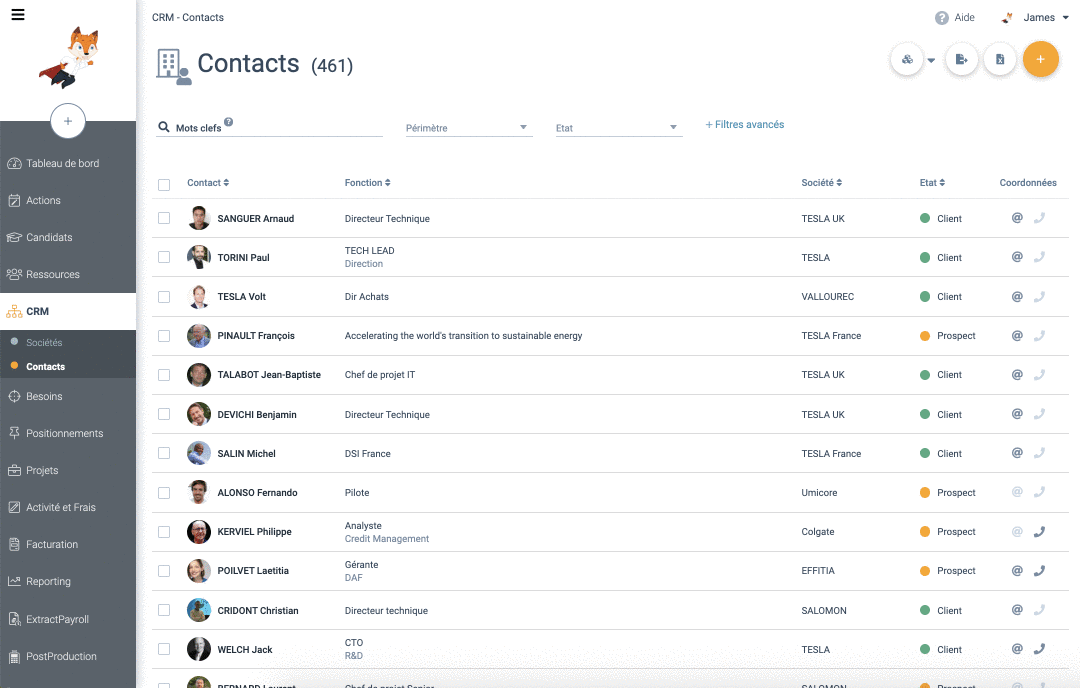 Automatic updates of cards states
When you use Emailing, you can decide to update:
The invoices states

The candidates stages
The positionings states on the opportunities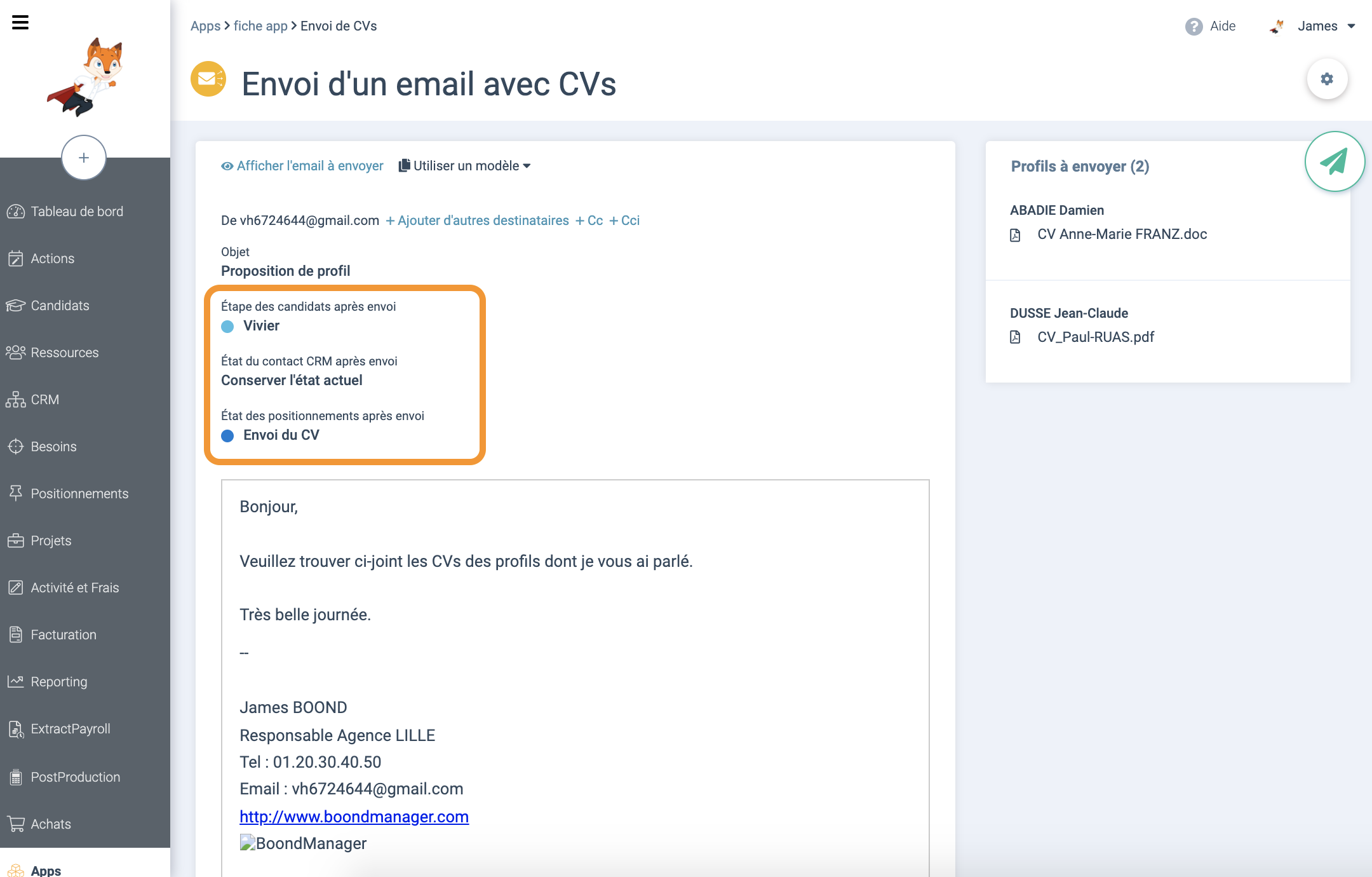 Adding your own attachments
Another very expected feature which is now available: adding attachments when sending messages, invoices or CV pushes.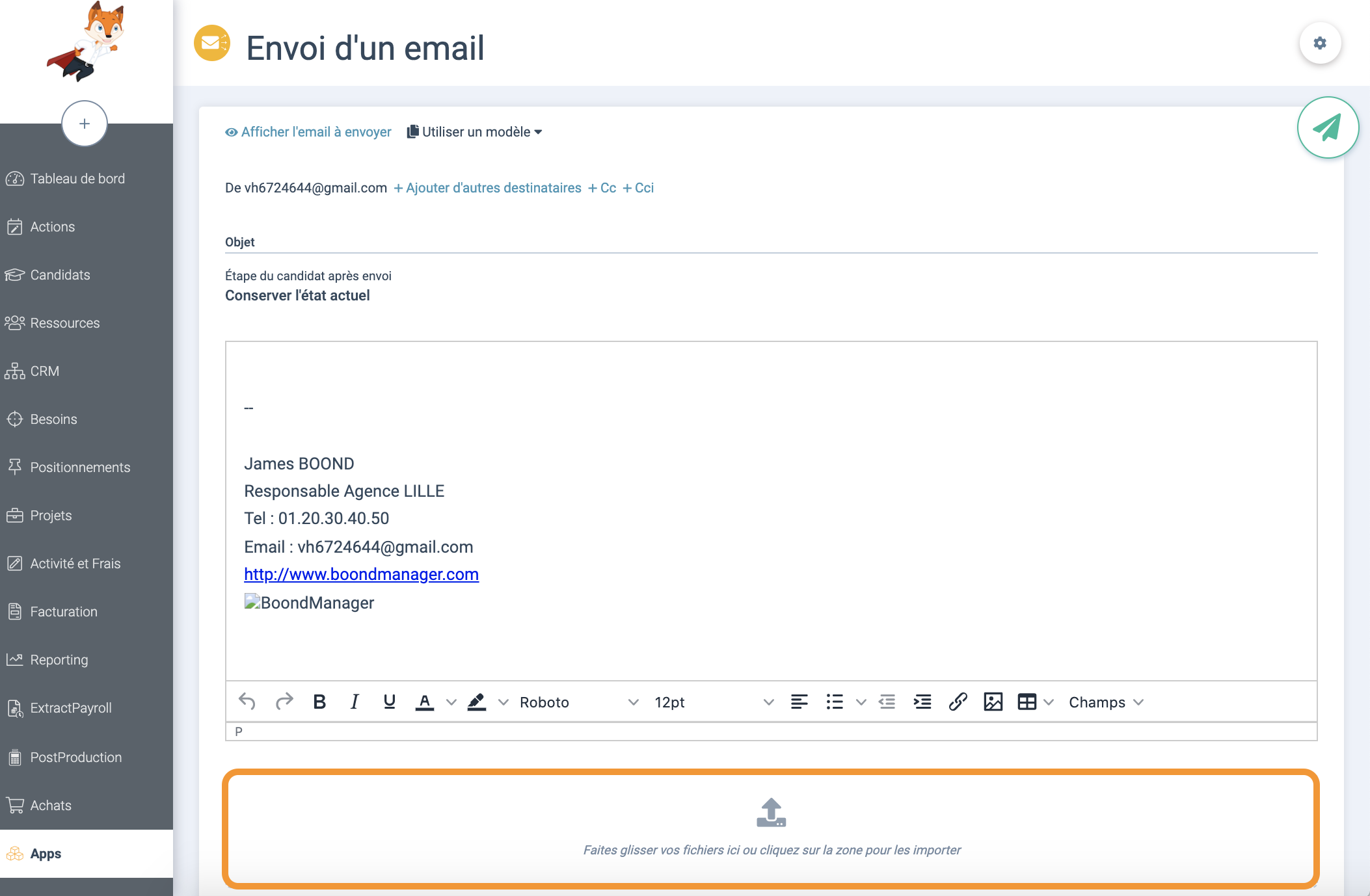 Choosing the recipients
Be it for CV pushes or for messages and invoices, you'll have the possibility to copy up to three recipients to the email.
Directly when sending the email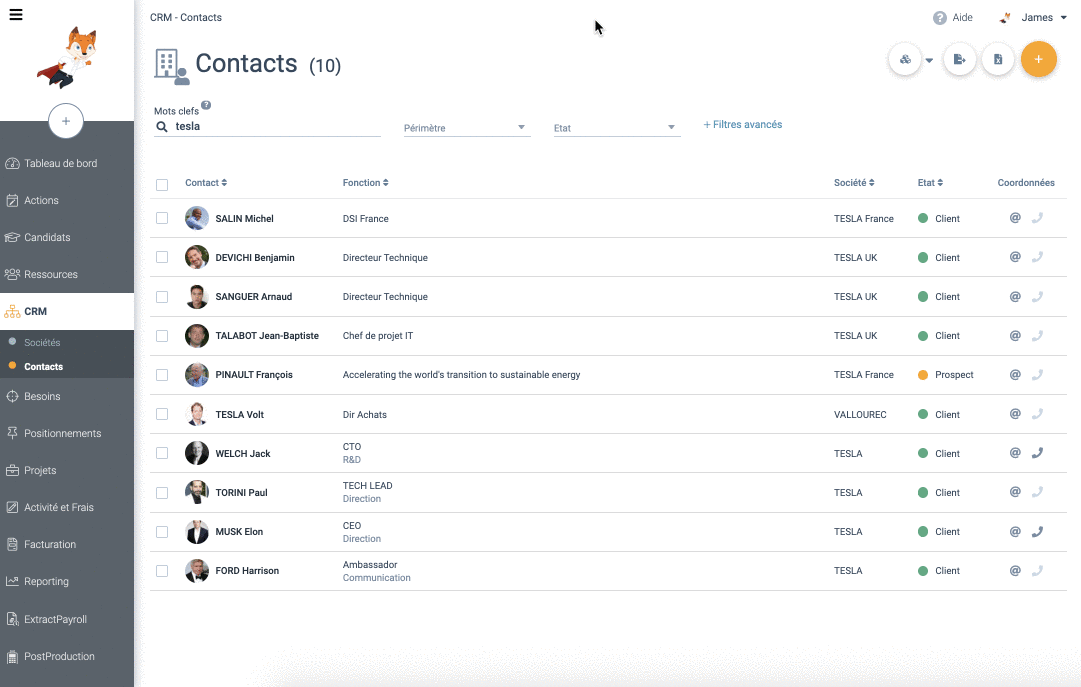 Default choices for your invoices
You'll have the choice between:
The manager sending the invoice
The invoice's manager
The project's manager
An email address of your choice
Important to know:
To copy people by default when sending invoices, you need to go to the Administration interface > Legal agencies > Billing tab.
Adding variables in the email subject
You can now add variables in the subjects of your templates.
Prerequisites
You first need to insert the variable in the body of the email and then copy/paste it in the subject.
New variables available in the templates
We now have more variables available so that you can keep customising your templates.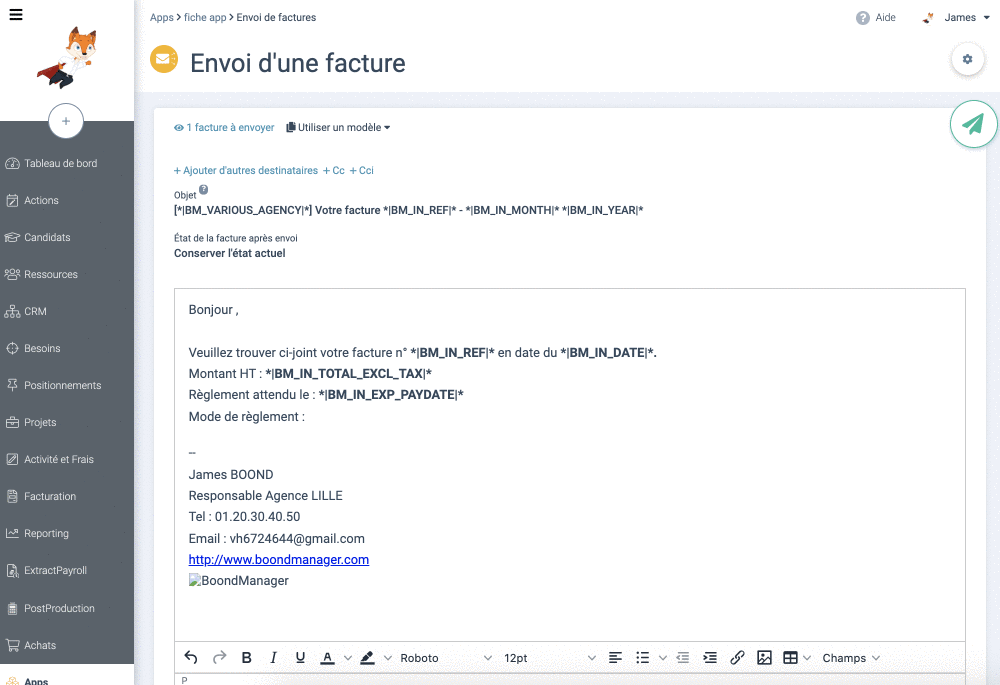 Improvement of the templates
In order to always help you save more time and be more efficient, you now can:
Send emails without using templates
Create a new template without leaving the current page

Concerning sending invoices, you'll be able to:
Link a default state to your template which will be given to the invoices after you've sent them.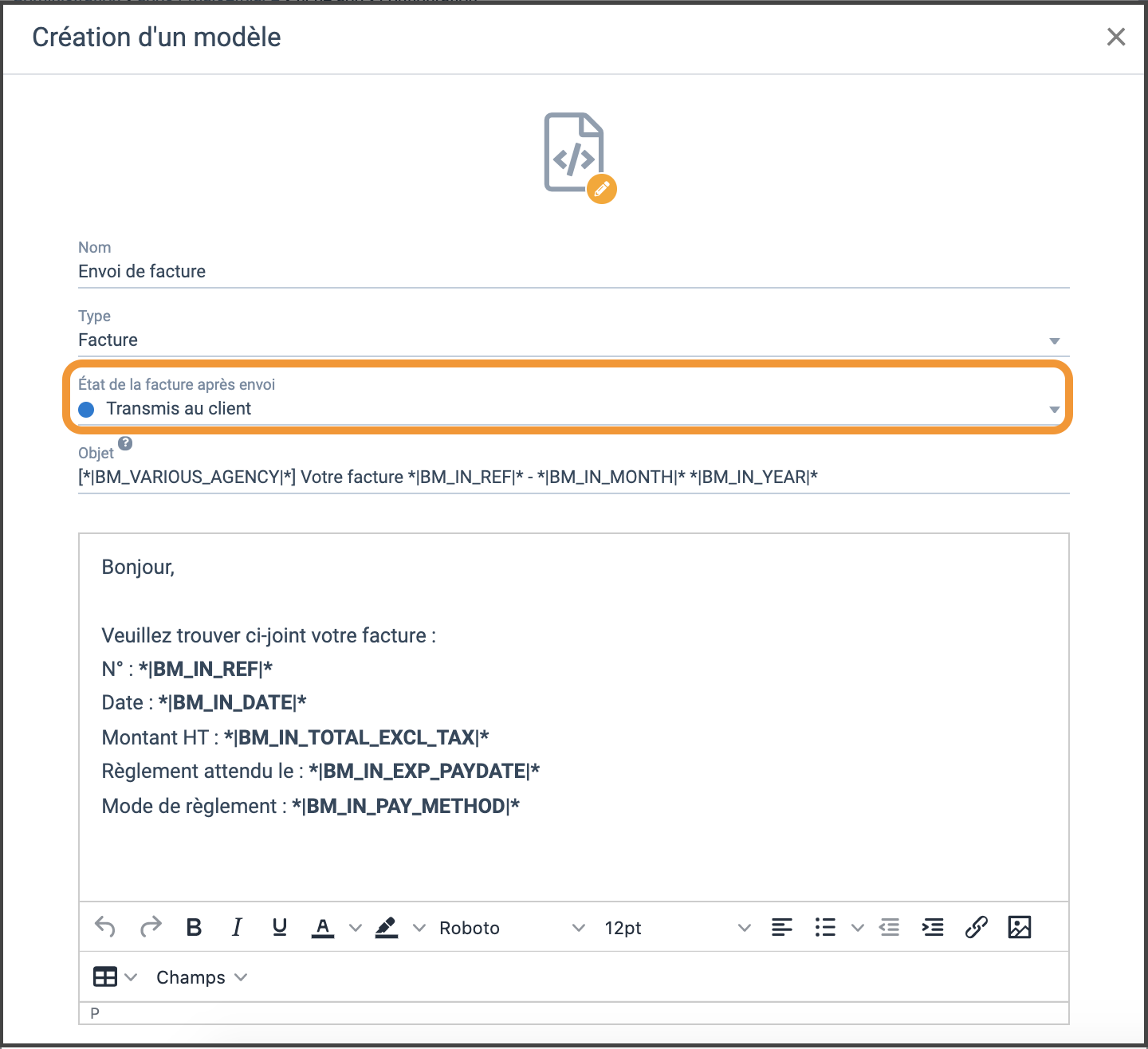 Simplified system for you to send reminders for documents pending validation (Times, Expenses, Absences).
Emailing now has a new feature as you'll be able to use it to send reminders for timesheets, expenses and absences requests, be it:
From the Activities & Expenses module.

From the ExtractPayroll app



Good to know:

The reminder will only be sent to the people whose validation is pending. Boond will display a message letting you know the people who won't receive the reminder.

Sending invoices from a different email address
Administration > Legal agencies module > Billing tab
If you want to change the sender of the invoices and not use your own email address, this is possible
. You'll just need to customise the email sender of the invoices.

Prerequisites
In your messaging service settings, you need to authorise the possibility to send emails via this new address.
HTML available in the templates
For all of our creative users, you can now create your templates using HTML, which will give you more possibility to customise your contents.
Office365 connexion has been simplified
In order to make it easier to synchronise between Boond and Office365, from now on you can use the OAuth Office 365 authentication.
You just need to go to the Emailing app and select the supplier. As easy as that!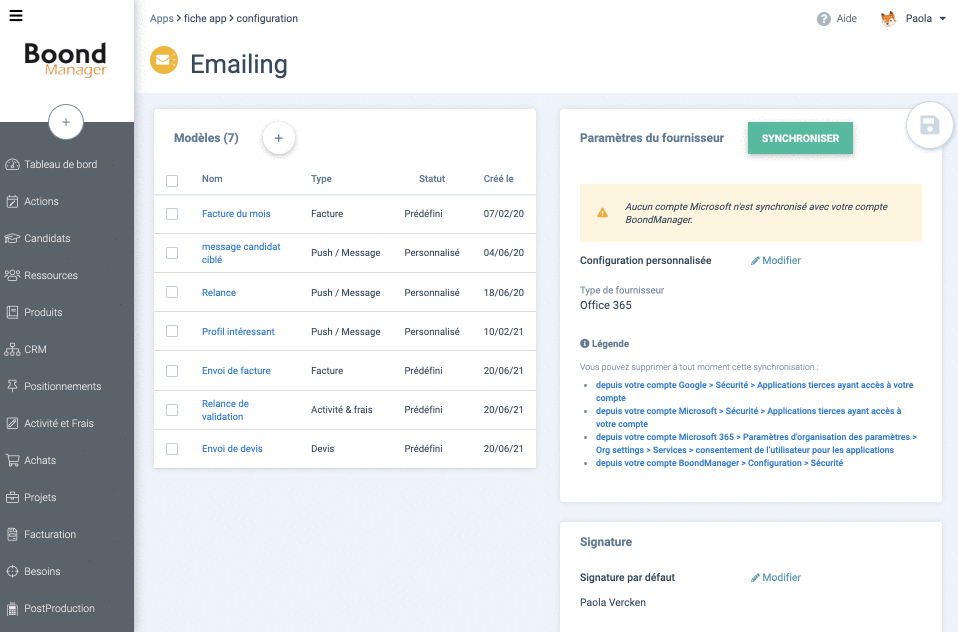 Sending quotations
The Emailing app has another new feature and can now be used to send quotations!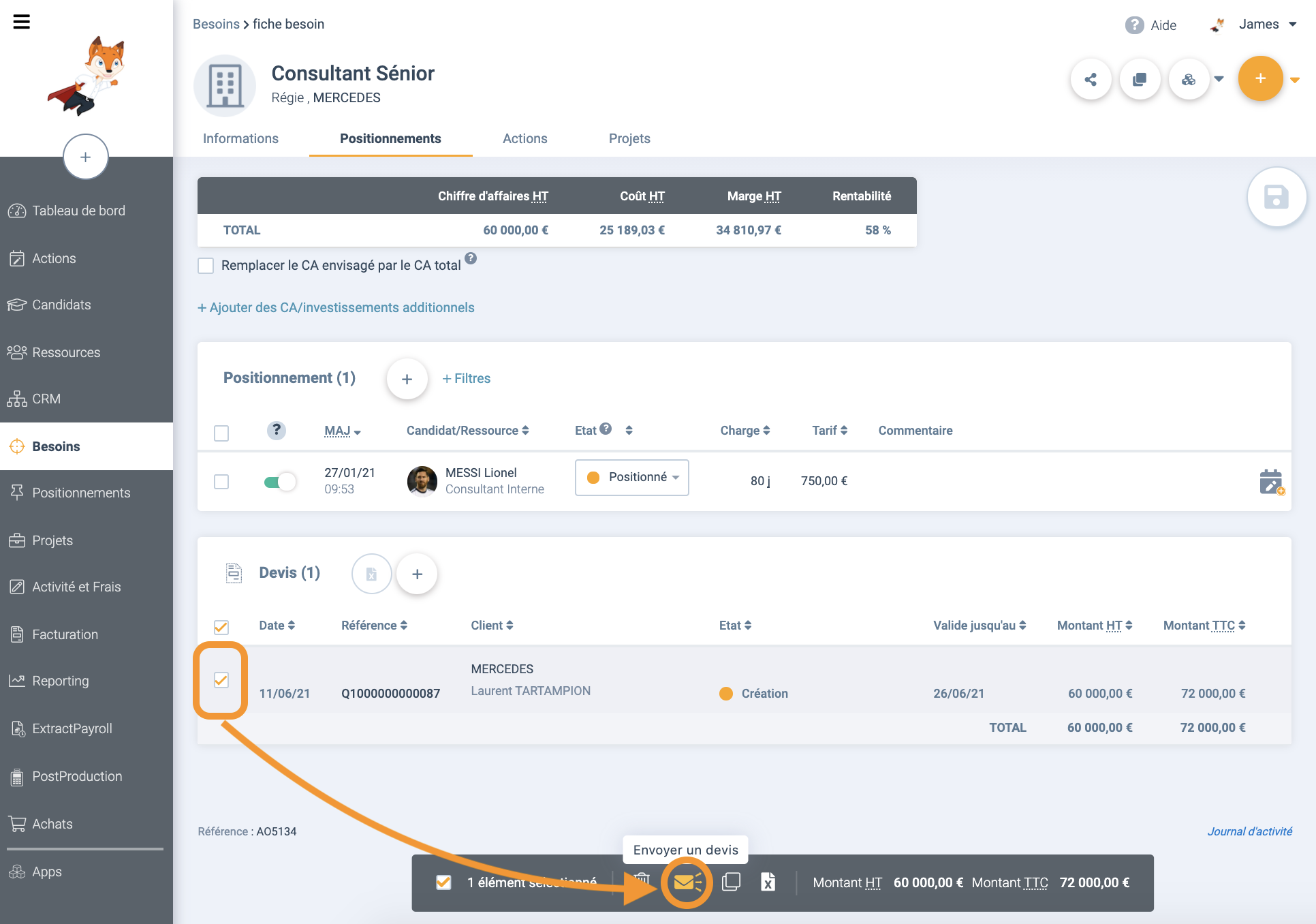 The toolbar
Make it easier to follow up on invoices settlement
We have added a toolbar at the bottom of each page for you to quickly see the ET and IT total amount of the selected invoices.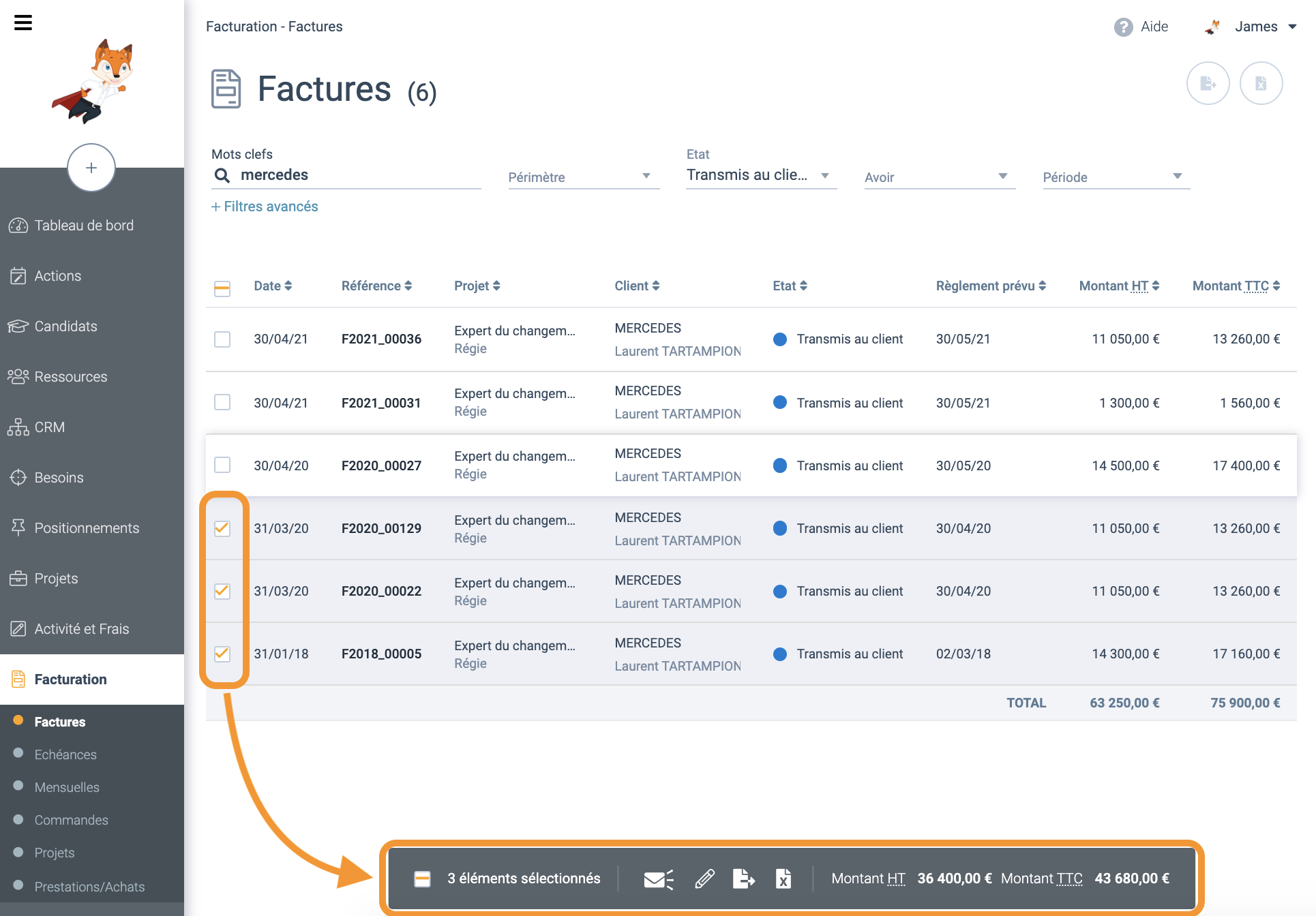 This toolbar integrates some action buttons
We have added a toolbar at the bottom of each page for you to quickly carry out actions after selecting a number of elements.
More details
the action buttons at the top right hand of your screen enable you to carry out actions (export and extraction only) on all of the data (for all of the pages)
and when you want to carry out actions on a selected number of elements, you now need to use the toolbar at the bottom of the page
Here is how it works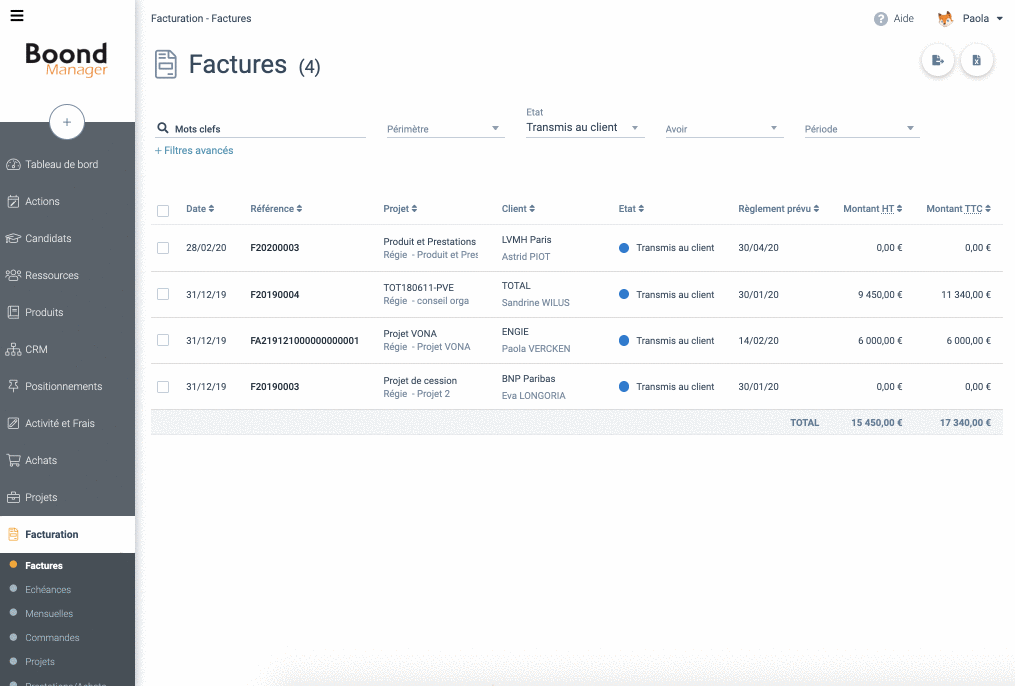 Candidates and resources management
Attach documents on the contracts
For you to be able to store more documents in a secure way, you now have the possibility to attach documents directly to your resource's contracts.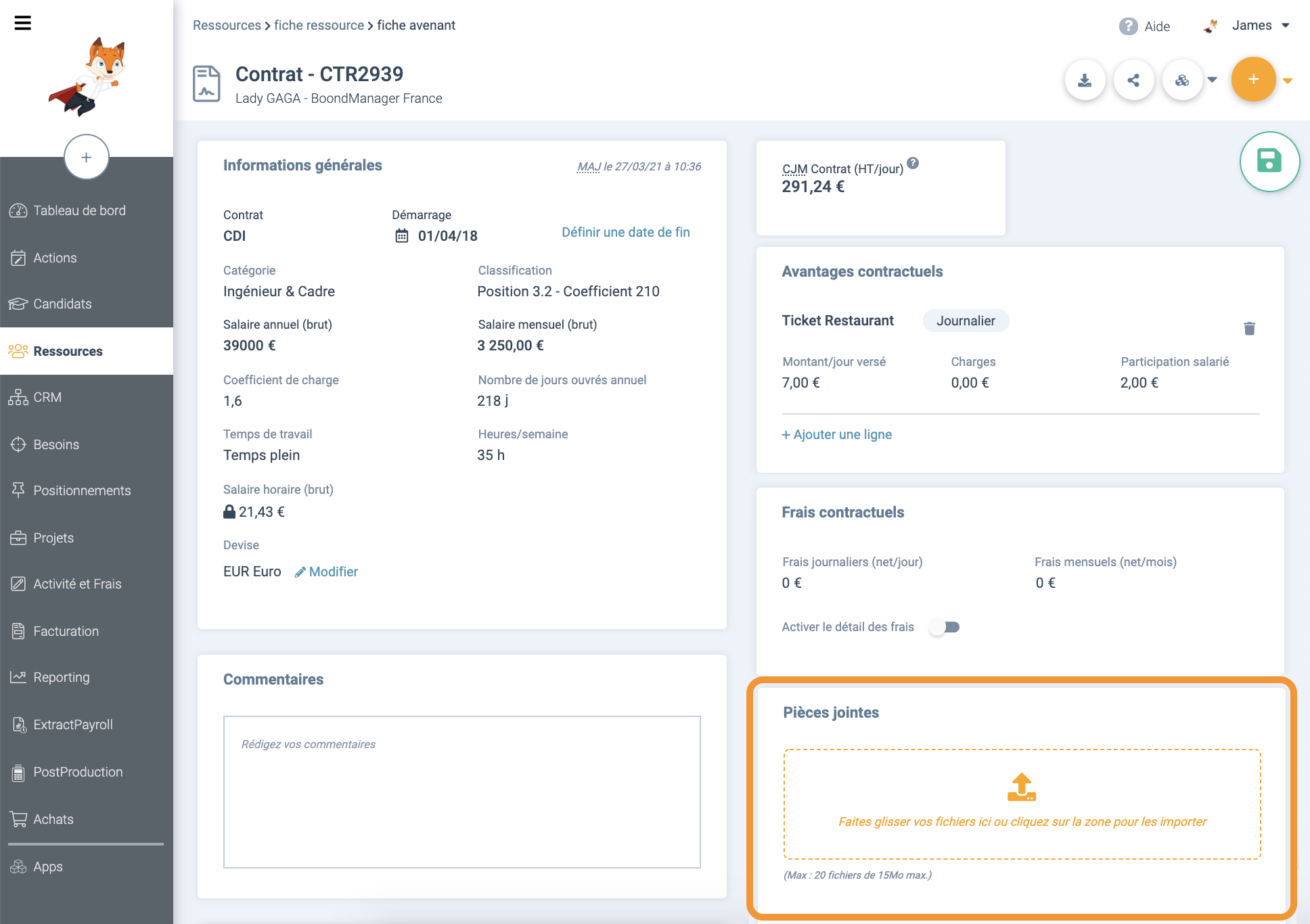 It is now possible to attach CVs in a PPT format
On the Candidates and Resources modules, from now on you can attach CVs in a PPT format.
The social networks section has been simplified
From now on, when you add a social network link on a candidate, resource or CRM contact profile, Boond will automatically detect the network and add the right logo. This link will be clickable.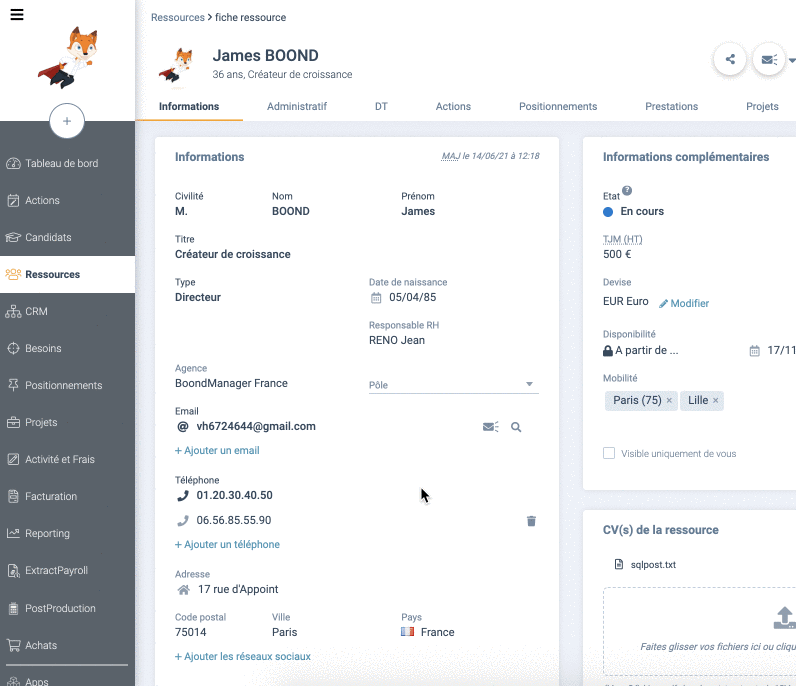 Improvements of the Actions module
Overview of the actions
From now on, the actions are displayed in a card system. This way, when an action has a lot of content, it is shortened for a better visibility. Then, you can of course decide to open the action to see more.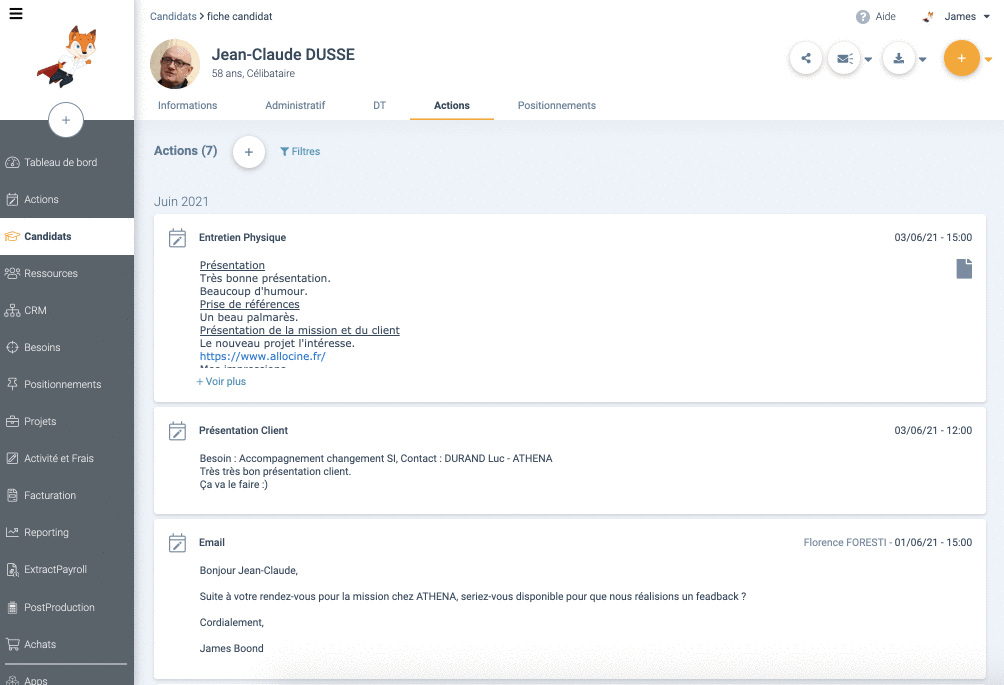 Moreover, the actions are now gathered by month and by year depending on their creation date.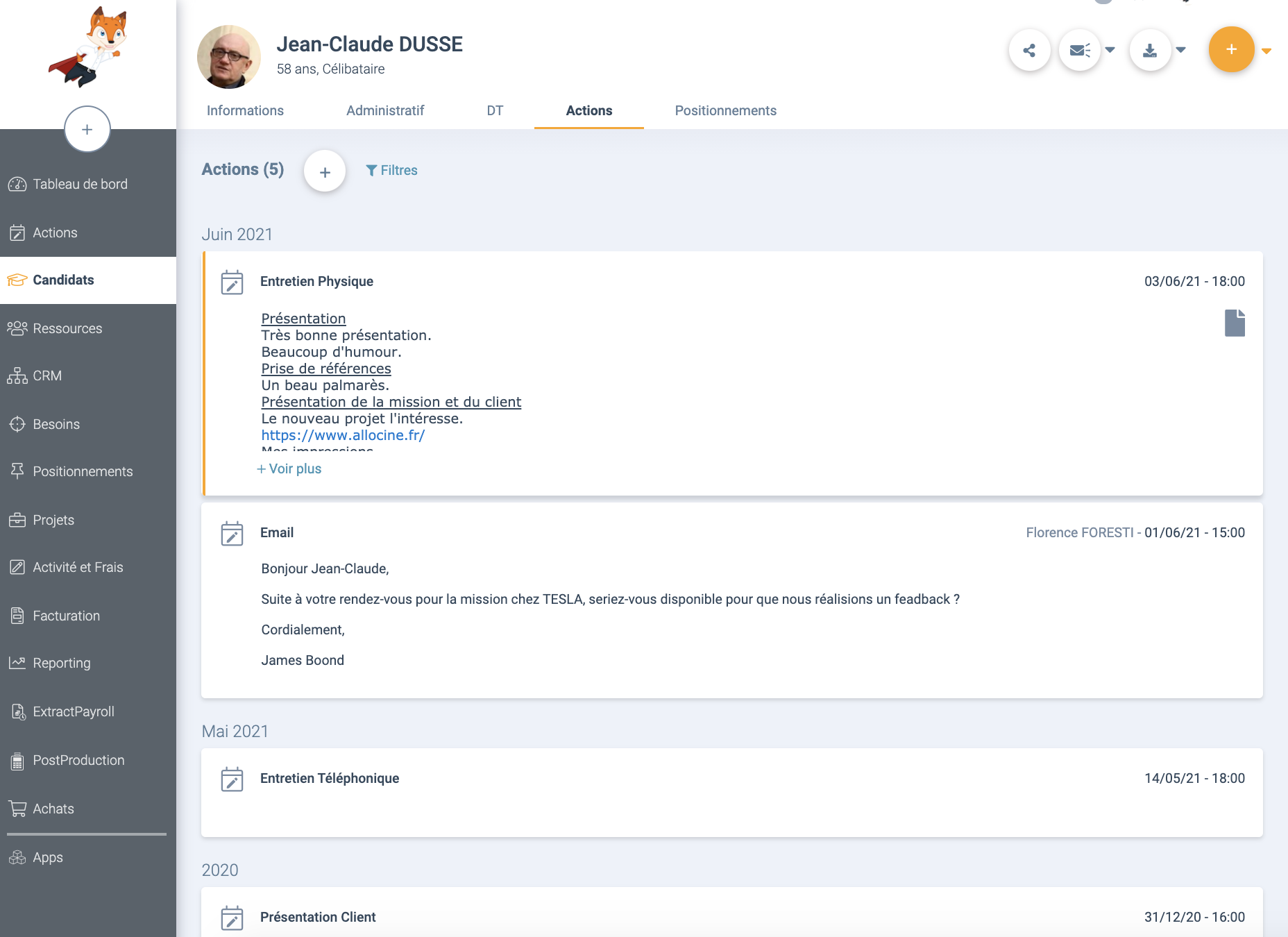 Minimise the action and keep browsing
You can decide to minimise the action on the side as a tab in order to keep browsing and resume the edition or the consultation of the action when you need it. Isn't this great?
Formatting is now available
From now on, you can format your actions and improve their visibility and readability.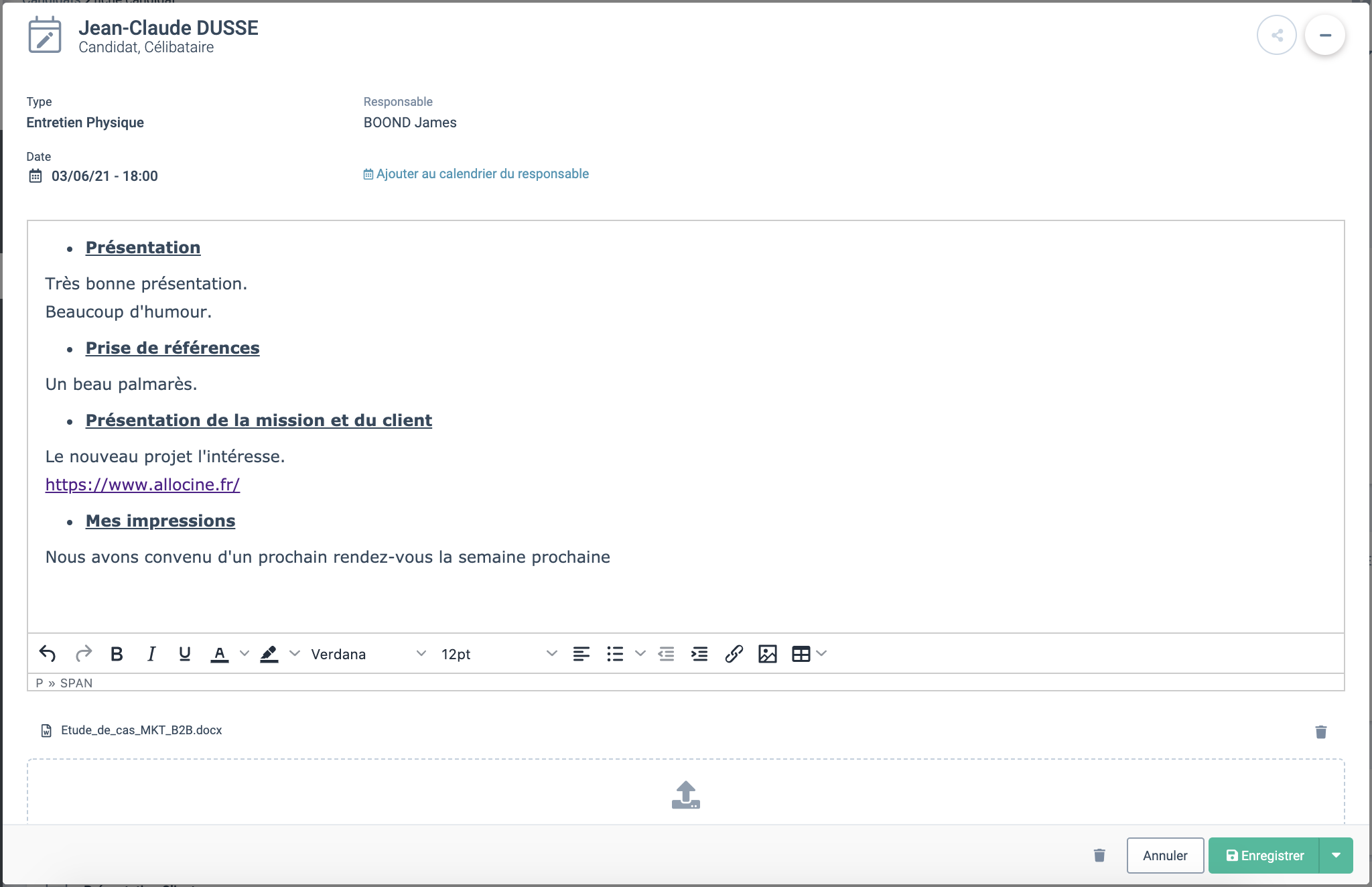 For instance : titles, bold/italics/underline, adding images, font size and policy, tables, bullets points, clickable links ...
The Calendar gadget has been improved (Gcalendar and Microsoft)
For you to be able to add external guests to your invitations, we've added a Description field. This way you can separate it to the main body of the invitation.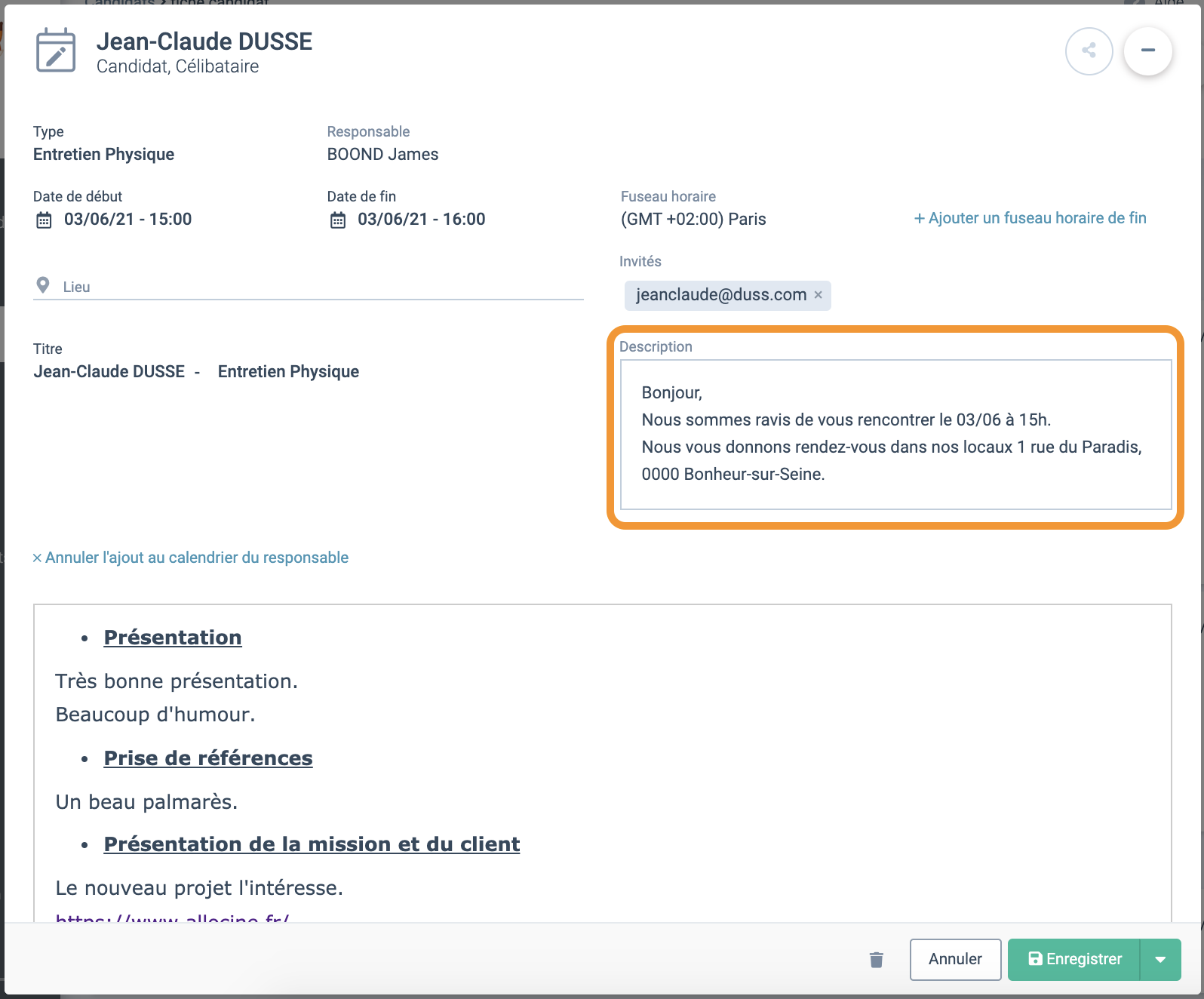 When you use the calendar gadget to synchronise your actions and your calendar, the body of the actions will no longer be displayed in the calendar event. However, the description field will be visible and linked to the invitation.
This way, if you write down the minutes of the meeting after the action is done, the guests won't see them.
Projects+
Drive the Production Turnover of your Fixed Price projects
The Projects+ app allow you to change the calculation mode of the Production Turnover for some of your project types. Mainly created to improve the turnover management of fixed price projects, this app let you choose the calculation mode that fits you the most:
As usual but limited to the Signed Turnover : The production is still incremented as usual (proportional to times/expenses/purchases declared) but limited to the total Signed Turnover
Signed Turnover x Progression : For those who drive the progression of their projects assessions the number of days remaining untill the end.
Manually : If you prefer enter manually month after month the Production Turnover of your projects.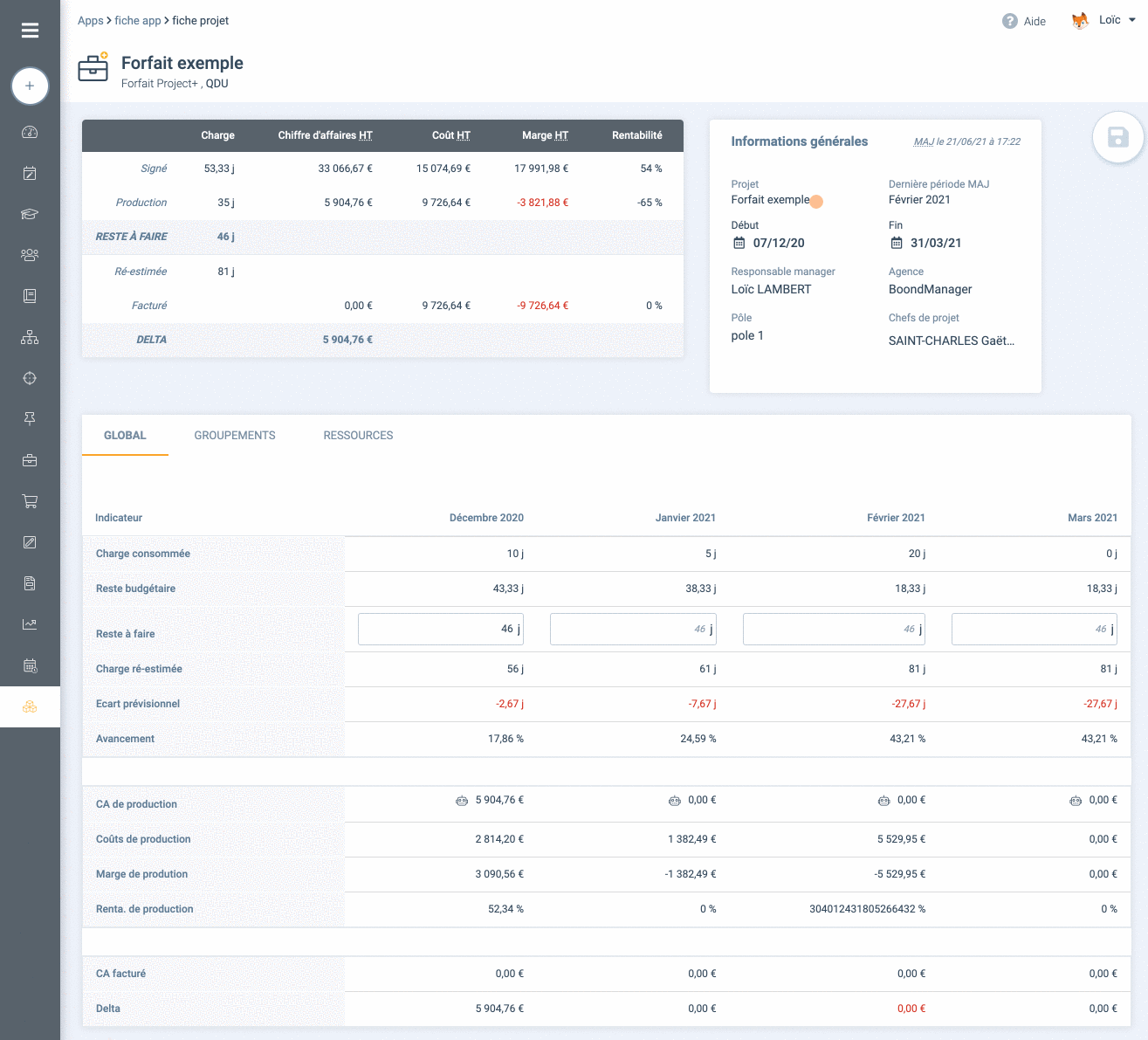 If you want to know more about this, please have a look at this article.
Manage the monthly progression of your projects
This App provide you a display inspired by the "Consumption" tab of your projects but with more informations such as a monthly scale. Thanks to that, you'll be able to check the monthly evolution of your project's KPIs but also to check/follow those evolution per groupment and per resource.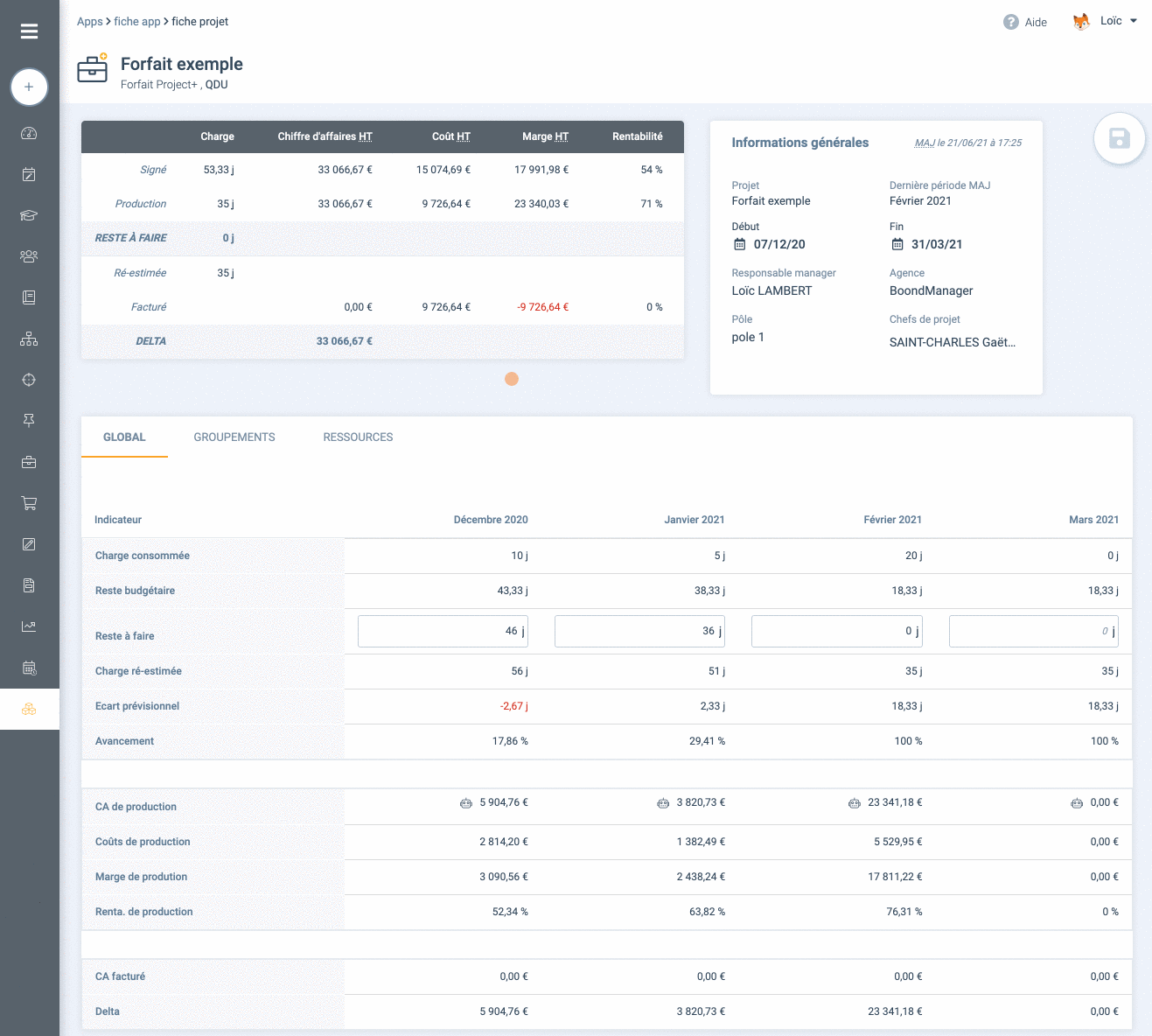 Also the "search" view of Projects+ get a quick overview of your projects KPIs but also to figure out which ones had been updated or not.
If you want to know more about this, please have a look at this article.
New features brought by our beta testers
This is also the occasion for us to thank our beta testers who spent some time testing this app and submitting their review about it. Thanks to you we've been able to bring some new features to the app during its migration:
Manage "Remaining days" per Groupment : In order to be able to detail more the progression than the "global mode" but less than the very detailed (per resource) mode.
Automatic mode for the Production Turnover resource rate: To help you estimate the Production Turnover per resource (proportional to time spent).
Better impact in our Reporting module KPIs.
Every bug has been fixed!
If you want to know more about this, please have a look at this article.
Automatisation
Zapier (v2) : New Triggers & Actions
In order to help you trigger some process whenever a specific event happens in BoondManager, we provide you many zapier triggers.
Triggers based on creation events
Those events will launch your zap whenever a creation (of the related object) is observed. Once created, you'll be able to use the newly created data to launch other actions. Here is the list of the triggers available after a event creation:
New Candidate
New Resource
New Company
New Contact
New Opportunity
New Project
New Invoice
New Action / Action Updated
Triggers based on update events
Those events will launch your zap whenever an update (of the related object) is observed. You'll get the detail of what has been updated and be able to use them to do some other actions. Here is the list of the triggers available after an update event:
Candidate Updated
Resource Updated
Company Updated
Contact Updated
Opportunity Updated
Project Updated
Invoice Updated
New Action / Action Updated
New Actions
Update a Resource
Update a Company
Create a Contact
Update a Contact
Update an Opportunity
A brand new tutorial
To celebrate this new version, we designed a brand new tutorial explaining how to use our Zapier Integration and giving you some examples and use cases.
We strongly invite you to have a look at it: Here we go! !
Integromat : Autre acteur majeur dans l'automatisation
Integromat est un outil des leadeurs dans le monde de l'automatisation de vos tâches/process. Nous avons le grand plaisir de vous annoncer qu'il existe désormais une intégration BoondManager dans Integromat et vous pouvez donc l'utiliser pour automatiser la recherche/création/modification de fiches dans BoondManager.
Pour en savoir plus, nous vous invitons à vous rendre sur la page de cette application
And much more
Apps developments: temporary tokens
To offer more security and prevent a possible app token tampering, we've developed temporary token management with a refresh token option.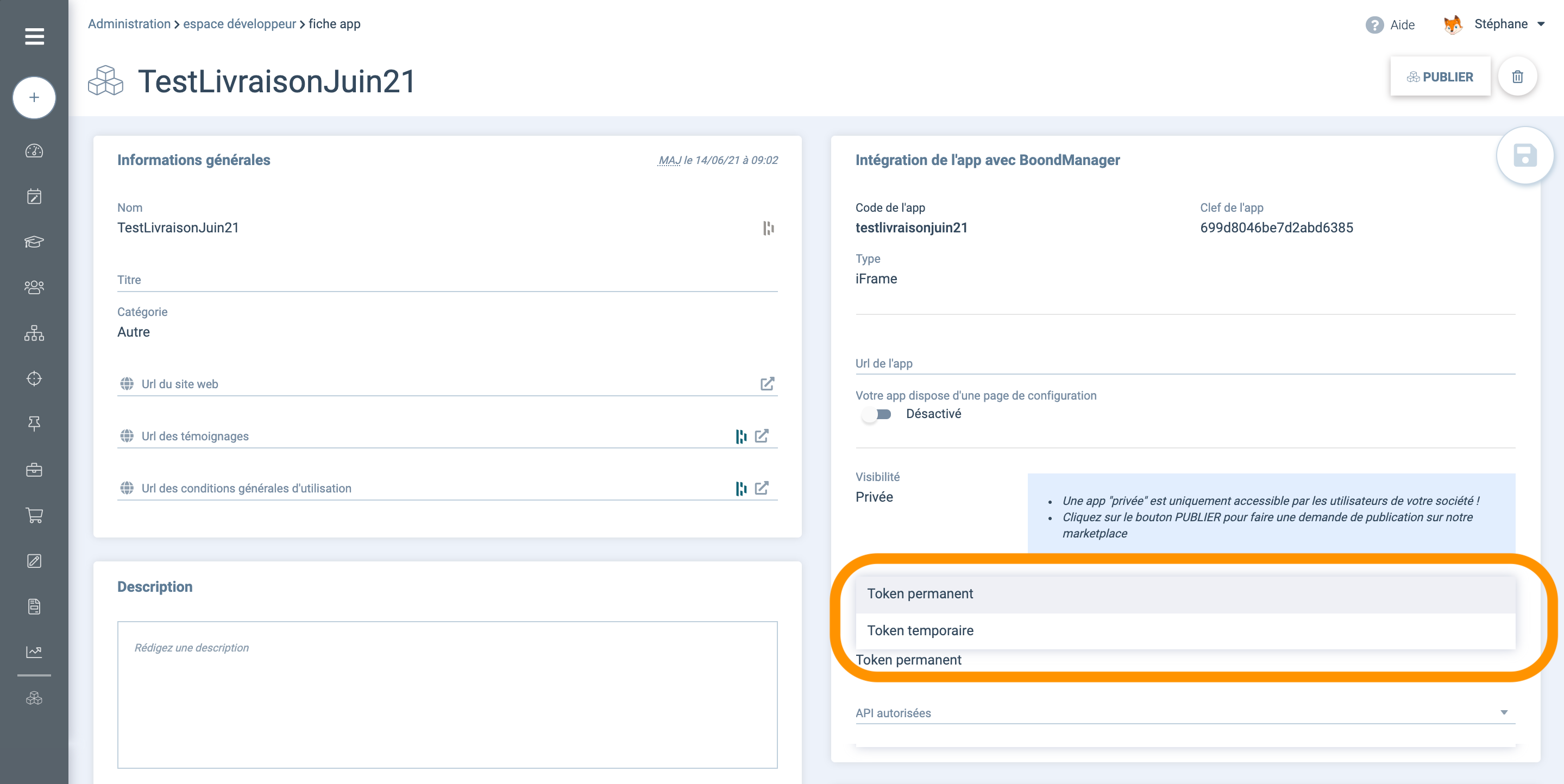 To know more about this, please have a look at this documentation.
BackupBDD : it's now possible not to back up all of your files
The BackupBDD app allows you to back-up your data (SQL dump + files backup) and it can sometimes be quite heavy to back-up your files whereas you only wanted to back-up your data without the documents. To help you do that, we've added a possibility to choose what you wish to back-up in the admin settings of this app:

We hope that this tutorial has been of any help and we invite you to let us know by voting in the dedicated section below.
If you still have other questions, feel free to get in touch with our Support team :